Do you have uneven sidewalks that may cause tripping and falling hazards? If so, you've come to the right place. Florida Sidewalk Solutions is the top sidewalk trip hazard repair company in Fort Myers and its surrounding areas.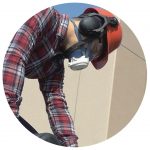 Uneven sidewalk looks bad and they can cause a serious trip and fall hazard. Our sidewalk trip hazard repair experts have the experience to remove all tripping hazards from sidewalks turning the sidewalks into a safe, level and completely hazard free surface.
Sidewalk Trip Hazard Repair Fort Myers
Services
We have the tools and equipment to handle any size project, no project is too big or small for us to handle.
Our experts at Florida Sidewalk Solutions have removed trip hazards from over 10,000 miles of sidewalks. We use Precision Concrete Cutting technology also known as PCC which gives us the ability to remove trip hazards on sidewalks affecting your home or business with ease. We get the job done fast, clean and safe without disturbing the surrounding area.
Sidewalk repair is an affordable and environmentally-friendly way to restore the appearance and safety of your sidewalk. Florida Sidewalk Solutions can save you up to 90% by removing the liability. Check out the main 3 phases we go through to make sure we get the job done right.
Phase 1: 
Our sidewalk repair specialist will take the time to measure your sidewalk to learn where to start and end the cutting process. This will phase will guarantee that your sidewalk is ADA (American with Disabilities Act) compliant.
Phase 2: 
We will then make certain that there is a zero point differential between both slabs of sidewalk.
Phase 3: Our personnel will make sure to collect and recycle all debris left on the property. Florida Sidewalk Solutions guarantees the process to be mess frees and hassle-free without disturbing the surrounding areas including trees, yard, sprinklers, and more.
After all three phases are done and completed the trip hazard will completely be removed. Your sidewalk will then officially be ADA and SOHA Compliant for slip resistance.
Our Mission:
The sidewalk trip hazard repair experts at Florida Sidewalk Solutions have over 13 years of experience saving clients time and money with high-quality work and customer service. Our precision cutting technology is the fastest and cleanest process. If you have a sidewalk trip hazard, contact Florida Sidewalk Solutions today to request a free estimate with one of our sidewalk trip hazard repair experts in Fort Myers.
Sidewalk Trip Hazard Repair Fort Myers
Our finish is the

finest

Our paperwork is the

clearest

Our sidewalks are the

safest

Our technique is the

fastest