Have you been thinking about hiring a professional Sidewalk Repair company in Pompano Beach to fix your uneven sidewalks? If so, contact us today to speak with one of our sidewalk repair experts at Florida Sidewalk Solutions.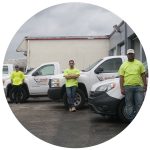 Neglecting to repair your sidewalk trip hazard can cause serious injuries to anyone traveling on the sidewalk and end up costing you and your company a whole lot of money. According to the ADA (American with Disabilities Act of 1990), any sidewalk with a slope greater than ¼ inches qualifies as a trip hazard and property owners or management companies are responsible for the condition and repair of their sidewalk and walkways.
Sidewalk Repair Pompano Beach
Services
At Florida Sidewalk Solutions we carry quality equipment and have the expertise to perform concrete cutting for any size project.

Although replacing your uneven sidewalk can be an option it is a very expensive, and time consuming process. In most cases, if your sidewalk is not damaged to an extent it may be unnecessary to replace your sidewalk as there are a few other methods available including concrete cutting. Concrete cutting technology is also known as PCC which gives our sidewalk repair contractors the ability to remove trip hazards with ease.
Our Concrete Cutting Technology is the preferred method as it is highly effective, affordable and can save you up to 90% by removing the liability and ensure ADA compliance.
Phase 1: 
Measurements will be taken by your trip hazard specialist at your location to know exactly where to start and end the cutting process. This will guarantee that your sidewalk is ADA compliant.
Phase 2: 
Trip hazard specialists will ensure that there is no differential between sidewalk panels.
Phase 3: We collect and recycle all debris or anything left behind. We guarantee to get the job done without disturbing anyone or anything in the area including trees, yard, sprinklers, and landscaping.
When all these processes are completed the trip hazard will officially be removed. Now your sidewalk is officially ADA and OSHA compliant for slip resistance.
Our Mission:
With over 13 years of experience, Florida Sidewalk Solutions is one of the top and most experienced sidewalk repair companies in Pompano Beach. If you are ready to get your sidewalk repair project started contact us today and don't forget to ask for your free quote and estimate. Also, follow us on social media including Facebook to keep up to date with us and view our most recent completed projects.
Our finish is the

finest

Our paperwork is the

clearest

Our sidewalks are the

safest

Our technique is the

fastest